The need for a new office was the opportunity for the events agency Woltti Group to put its responsibility values into practice and to aim for WWF Green Office certification.
We Care: these two words sum up Woltti Group's promise to be a company that makes the change that it wants to see taking place in the world.
Last year's decision to move to new premises was what originally prompted us to commit to the UN Global Compact initiative and the WWF Green Office system. Sustainability aspects have been taken into account for years in our planning and implementation of our clients' events, but there is room for improvement in our office practices.
"Turning into a more responsible company covers everything – not just our clients' events, but also our own commitment to responsible practices in our daily operations," emphasises Johanna Joutsen, Account Director and Sustainability Lead at Woltti Group.
The new premises put values into practice
Woltti Group had a housewarming party in February 2020. The new office space is located a stone's throw from the old one, beside the Konepaja area at Teollisuuskatu 33.
Environmental responsibility was an important theme in the design of the new space, and a key point in discussions with the architects. Attention was paid to both the choice of materials and the choice of the property itself. The environmental aspects of the building's technology have been taken into account in issues such as LED lights, waste sorting and the building's restaurant, which aims to minimise the amount of food waste.
"We wanted the new office to be as environmentally friendly as possible and perfect for us. There is a lot that needs to be done, but we have already worked hard to address the responsibility aspects. We brought as many pieces of furniture as possible from the old office, for example. We're now working on reducing the use of electronic device displays," says Joutsen.
"We also wanted the housewarming party to follow the model for sustainable events in as many aspects as possible, and we wanted to ensure that everything was carried out in the most responsible manner possible. We paid attention to reducing food waste, serving local and organic food and leaving out anything that was not necessary. We can also reuse the decorations, and the decals will stay in place."
Aiming for WWF Green Office certification
When daily life is hectic and things keep changing, it is easier to act responsibly when everyone is given clear instructions. That is why Woltti Group decided to participate in the WWF Green Office programme, which provides a systematic model for environmental management in the workplace.
"The Green Office preparatory self-evaluation has already been carried out, and the staff are committed to the programme. The starting level was reasonable but there is also room for improvement. Our goal is to obtain the certification in autumn 2020," says Johanna Joutsen.
"To me, the commitment to the programme demonstrates what we are as a company: a family that includes our clients. It brings us all closer as we strive to our shared goal. We put our hearts and souls into achieving great things."
We Care also in our daily lives
Johanna Joutsen has noticed that the responsible approach has also entered her everyday life at home. The biggest consequence of the commitment to responsibility is the realisation of how the changes in the workplace values change individuals' values.
"In order to achieve long-term changes, each individual's values must also change. It must come from the heart. As we collectively make tangible changes that are noticeable in our daily lives, we begin to have an impact. Our responsibility efforts are then not just merely greenwashing, but each individual's value judgment, a meaningful and valuable thing and an integral part of the self."
"I sometimes look back a year or two and I think 'wow' – we've made a lot of progress already," Joutsen rejoices.
The Global Compact is a UN initiative in which companies commit to ten principles related to human rights, labour, environment and anti-corruption. The Green Office is the WWF's environmental management system that helps businesses and organisations to reduce their carbon footprint and to use natural resources in a sensible manner.
Woltti Group helps its clients to organise responsible events and impactful encounters with their customers and key stakeholders. Get in touch: jarkko.kivikoski@wolttigroup.fi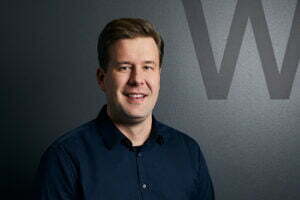 Need more emotion in your world? Subscribe to the Wolttigroup newsletter