How to channel the right visitors to your stand?
When products are presented on 3D video and people build their professional networks on the social media, the trade fair would seem to be consigned to the dustbin of history. But that is precisely why interest in them is spiking.
"Fairs and exhibitions do well at something the other channels don't: personal encounters. Fairs are especially effective in the B2B business. You meet your subcontractors, competitors and customers who, in the best-case scenario, came to the fair with their buying pants on", says Woltti Group Business Director Jarkko Kivikoski.
From the company's perspective, the fair is above all a business event. That's why you need to meet as many of the right people as possible, and success is not down to luck but to hard work.
"When you want to build traffic to your stand, you need to think about what you are trying to achieve with the fair. After that, the rest is easy."
Build visitor volumes before the event
When it comes to trade fairs, well planned is more than half complete. The best way to increase impact and, thereby, your sales, is to be proactive.
"It is even more effective than making a large investment in a showy stand, but not all Finnish companies have realised this yet", Jarkko Kivikoski says.
The first step is to think carefully about who you would like to meet at the fair. Then, you need to create a compelling reason for them to attend. It could be anything: an interesting speaker, innovative presentation or VIP event.
When it comes to invitations, personal is always better.
"An e-mail invitation needs to promise something pretty exclusive to stand out. The most effective way of making the visitor feel special is a paper invitation followed up with a phone call. Companies could use this technique a lot more."
It's not too late to invite people on the day
Even though your stand's visitor volumes are principally built in advance, it's not too late to act at the event itself. On the contrary, being creative and encouraging people to visit your stand can net some unexpected fish.
"Good exhibitors tour the fair and invite people to see their stand", Jarkko Kivikoski says.
It is easier to attract people to your stand if you are genuinely interested in them. By stepping into the shoes of the fair-goers, you can discover problems you could solve for them and make their visit that much more memorable.
"One of our customers had developed a new harbour crane loading system. They had teams circulating the fair with charger vests for mobiles, something that was difficult to do at the fair", says Kivikoski by way of example.
Success is created by people
A company's biggest trump card at any fair is its people. If your staff consists of two engineers sipping coffee and reading their e-mails, even the world's most gorgeous, expensive and innovative visual display playing in the background will do you no good.
"On the other hand, even if your stand is pretty common, but your people radiate enthusiasm, the event could be a sensation", Jarkko Kivikoski says.
The best effect is achieved when both of these aspects are in order. Since the most important objective of a trade fair is to meet professionals and stakeholders in your own field, the best fair strategies have precisely allocated budgets.
Some major global companies have completely given up exhibiting at fairs, but have increased their presence in other ways.
"They have traded the stand for an evening cocktail party and use their time at the fair to walk around inviting people to it. Important social contacts can be built by investing the fair budget in wine and jazz."
When it comes to trade fairs, well planned is nearly done.  Contact us jarkko.kivikoski@wolttigroup.fi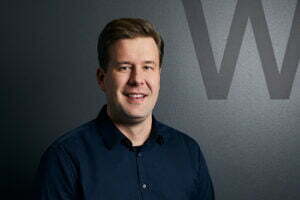 Need more emotion in your world? Subscribe to the Wolttigroup newsletter